Virtual Reality Marketing: Optimize the Customer Journey by Using VR (current)
Convince people by being relevant in marketing with Virtual Reality The keyword in marketing is relevance. But why?
In a world full of information, both existing and potential customers have no choice but to select information based on whether it is relevant to them.
In this context, relevance means information that has a particularly high importance for the person in question at that very moment. Accordingly, they devote their whole attention to such information.
In order to create a relevant marketing initiative, three aspects must be fulfilled. It must
be at the right time,
have the necessary information and
be aimed at the right person.
A marketing initiative can be fully effective once all three points have been fulfilled. This means that we must pay more attention to how we communicate the necessary information to the right people at the right time.
Planning Marketing Initiatives Using the Customer Journey Method
A common method for planning marketing initiatives is designing a customer journey.
This usually means that the customer's development is considered over different maturity phases. This begins when a certain need or wish arises that is related to the solution offered by the company. It often ends with the phase in which the customer has become the ideal customer for the company. For example, this could be a loyal regular buyer that defends the product in public.
The aim of the customer journey is to make managing the customer's development as transparent as possible. For this purpose, measurable initiatives are developed for each phase.
In addition to relevance, three other criteria are also particularly important:
Reach,
revenue and
expense.
So the question is: Which initiatives can I use to reach as many people in my target group as possible with my relevant content? And how do these initiatives have to be designed in order to achieve the best possible ratio between revenue and expense?

The customer journey method supports planning and helps to coordinate initiatives. What you see in the figure above is a very scientific, small-step consideration of the customer journey according to Batra & Keller. The simple breakdown according to the AIDA model is somewhat more tangible.
Where are your marketing challenges? Would you rather seek to achieve a wider reach within your target group? Or are you looking for ways to make the phases immediately before a purchase more successful?
Along the customer journey you will find important questions that help you identify potential. It is only then that you can formulate requirements and develop targeted measures.
From VR in-house development to the VR app kit – what is suitable for me?
Before we look at implementing Virtual Reality marketing in the context of the customer journey, we take a look at the different types of VR applications. These differ greatly both in the expenses they entail and in the benefits they provide.
On the one hand, there are highly complex applications that have been developed for individual cases and, for example, rely on completely simulated VR environments and elements.
An exciting example of this was implemented by the company Jungheinrich.
Considerable software development effort is required for an application like this, which is only exceeded by an open-ended cost block for complex VR simulations (a good article on the costs of VR Apps).
These applications are impressive. Due to their cost structure, however, they are only suitable for very few companies and in most cases are not attractive for VR marketing.
On the other hand, there is software that makes it possible to automatically generate VR applications based on a modular principle.
The user can integrate 360° content e.g. 360° images or videos taken with special cameras (such as our price/performance favorite Insta360 ONE X) or images and videos extracted from VR simulations.
The generated application can then be exported as an app on different platforms so that it can be viewed on a smartphone, using VR glasses or on a simple web browser.
These VR applications are much cheaper, more flexible and more controllable. They represent a solid framework in which content can be dynamically adapted on a regular basis. If a company later decides to integrate complex VR models, this is often possible with only a few restrictions.
Experience has shown that 83% of use cases can be handled using a sophisticated VR application kit (also known as 'VR authoring tool' in the professional world). For the remaining cases, an in-house development should be used.
For this reason, we will discuss the topic of VR authoring tools below. For many companies, these are their preferred tools for Virtual Reality marketing not only for financial reasons, but also because they are easy to use, easy to maintain and have inclusive services.
Using Virtual Reality along the Customer Journey
Like other forms of media, using VR is subject to limitations. However, it does offer special possibilities compared to other types of media.
Before using VR, you should make sure that the advantages that VR has over other types of media are actually being used. If this is not the case, I strongly advise you to reconsider your planning. (Good article on risks in marketing)
Using an innovative technology such as VR does not compensate for the fact that marketing initiatives must be preceded by thorough planning and conception. Since this is often a cause of disappointment, I have to emphasize this again: using VR only brings added value if you develop concepts that use the added value of VR in a targeted way.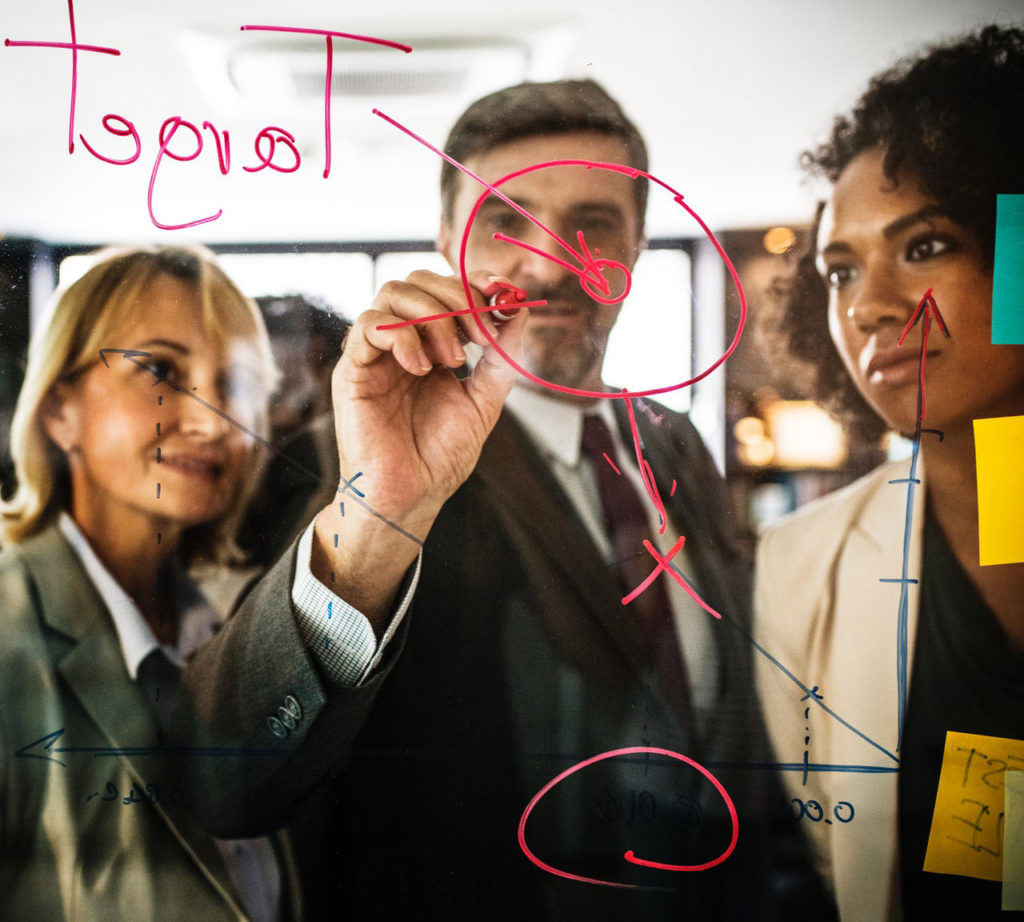 There are five benefits of VR:
The undivided attention of the viewer. As soon as you put on VR glasses, you "dive" into a new world.
The independence of space and time. The user can be brought to any place in the world at any time – even to places that are otherwise inaccessible: whether in the virtually planned house, next to an erupting volcano in ancient Rome or in the assembly hall of a company's headquarters on the other side of the globe.
The strong involvement of the viewer. Through interactive elements that are proactively used by the viewer, they will feel completely immersed. This immersion is proven to create long-lasting memories. This is one of the reasons why VR is becoming increasingly popular not only in marketing, but also in education (you can find out more about this in our article "Immersive Learning in VR").
Targeted information according to the pull principle. The viewer is playfully motivated to discover the information/actions that are relevant to them.
Tracking possibilities. The customer is in a completely controlled environment. This creates new possibilities to obtain important additional information from the viewer by measuring and evaluating movements and actions.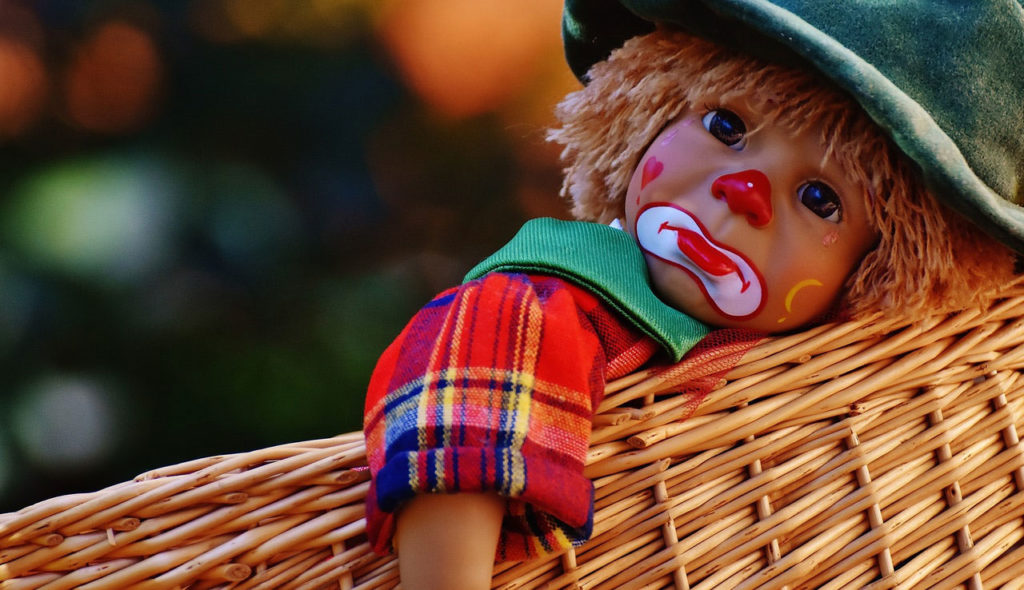 However, Virtual Reality also has three major disadvantages:
In order to reach people, they must have access to a device that can play VR content.
VR content, especially videos and animations, often contains very large files. This means that content must either be available offline or the internet connection must be sufficiently fast.
The VR display is often viewed by one single person (in contrast to TV advertising, for example, which can be viewed by millions of people simultaneously). (Exception: multi-user applications, but we will not go into detail about those)
However, the pros and cons vary depending on the phase of the customer journey and the VR display solution used.
WebVR solutions that can be integrated into the browser e.g. via Iframe, have the lowest barriers when it comes to reaching a group of people. They are not dependent on any hardware, don't need to be downloaded in an app and can be easily integrated into existing homepages. However, they do have technical limitations, which means that the viewer's involvement, immersion and undivided attention are not always fully there.
On the other hand, using VR glasses offers excellent user integration due to the possibility of using the full range of current features and enables comprehensive tracking – though this does require the viewer to have access to VR glasses. While VR glasses can be provided at the trade fair, there is still a considerable hurdle when it comes to the private sector and telemarketing.
This makes the glasses particularly suitable for trade fairs – either as sales equipment for sales staff or for waiting and exhibition areas. In other words, wherever this technology can be made available to the potential target group.
Aspects and Use Cases of VR in the Individual Phases
The individual phases of the customer journey sometimes overlap, which means that measures cannot be assigned to a phase. In the following, we discuss the type of scenarios where VR is suitable – and how these applications can also reach the target group.
Who benefits from the most sophisticated application if the potential customer never sees it?
Arouse and satisfy needs and wants
One of the tasks of marketing is to show potential customers solutions to their needs and wants. In this case, it is thus important to reach as large a part of the target group as possible.
The bad news: not every customer is familiar with VR.
The good news: Virtual Reality can be integrated on almost any platform – from smartphones (not everyone!) and web browsers to VR glasses.
Not everyone has the blessing (or curse?) of having a product whose solution is understandable for everyone. The purpose and necessity of weatherproof clothing and a backpack when out hiking is obvious to everyone.
The situation becomes more difficult with products that have one or more of the following characteristics:
Special need for explanation
Lack of knowledge about the problem/solution
Premium services & features
Examples of this would be: Presentation of new production technologies, explanation of service processes, display of animal-friendly husbandry, emphasis on a particularly exclusive location of a property or the presentation of exclusive trips.
This is where Virtual Reality offers a bridge. By appealing to almost all the senses, a need or want can be brought close to the viewer in the best possible way and convincing sales arguments can be impressively communicated.
Using VR to Reach the Target Group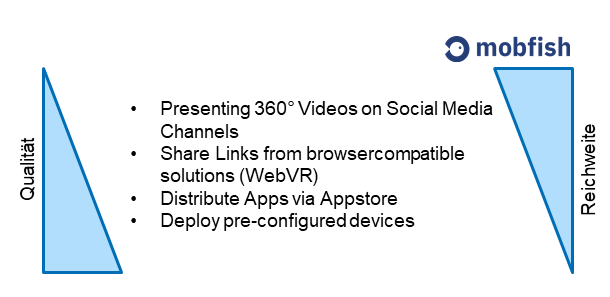 In order to reach the target group, one or more of these ways can be used. It is often the case that already created applications can be used cost-efficiently in several ways (among others, this can be solved by mobfish VR STUDIO with the cross-platform feature). To help us consider the individual ways, let's use an example.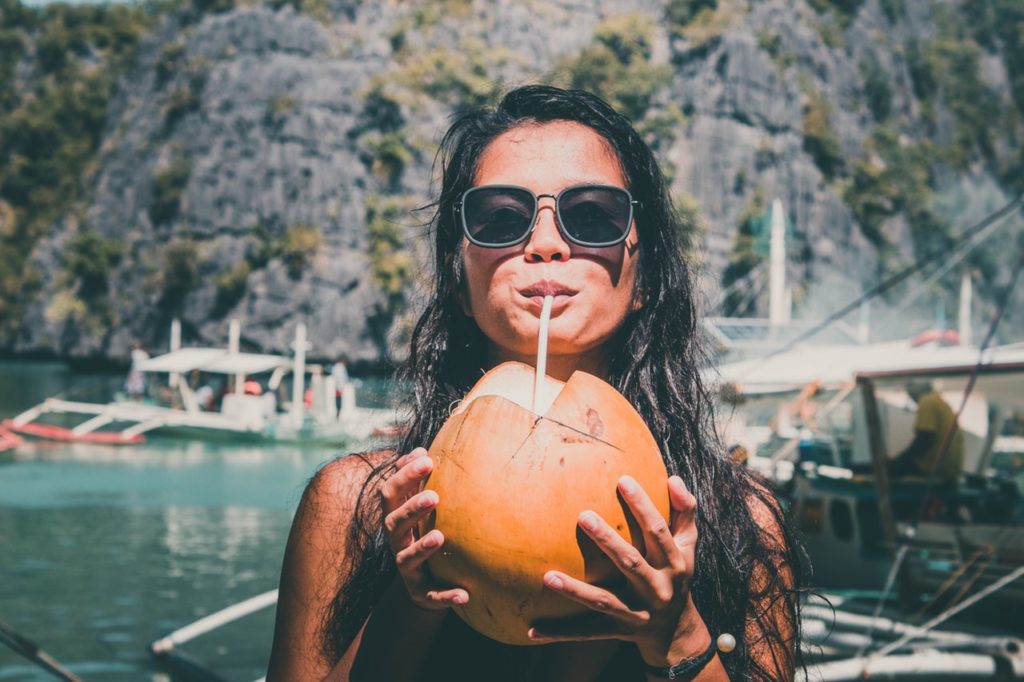 Using VR in the fictitious travel agency "Feelgood"
Feelgood advertises an exclusive holiday in Dubai using a 360° video on Facebook.
On the link below, the interested customer lands on the Feelgood homepage. There they will find an embedded WebVR video where they can watch various highlights of the holiday at the click of a mouse.
The customer is interested and comes to the travel agency. Here they put on the VR glasses to choose their hotel, room and activities. The superior quality VR glasses and higher immersion leave the customer with an even better impression. With functions such as "screencast", the travel agency employee can see what the customer is interested in and can go into it in more detail.
In preparation for their trip, the customer receives a pair of rental VR glasses. In addition to other offers, this includes entertainment for the flight.
In the hotel, 360° shots are taken of various activities and put online tailored to each customer. After the holiday, the customer receives a link where they can relive the holiday in 360° on any platform (web, smartphone, VR glasses) and share it with their friends.
Virtual Reality in Marketing – Make Successful Progress with Suitable Concepts
VR has become marketable. The task lies with companies to tailor concepts to themselves. If you search the internet, you will soon find an abundance of successful and prize-winning VR marketing applications.
Now is the time when most momentum can be gained.
How can you use VR for yourself and your company? Call us without obligation and we can advise you – or start directly with our free trial version.
Did you think there was something missing from the article? Do you have any further questions? Or would you like to add something?
We look forward to any comments you may have!