Virtual Reality in Companies – mobfish VR STUDIO!
Virtual Reality will be an integral part of the future – that much is certain. And that doesn't just apply to the entertainment sector: there are also many great opportunities for companies to reap the benefits of cleverly used VR applications. Here you can find out how Virtual Reality can be applied in a meaningful way in your company.
Just over 70% of SMEs are considering whether to use VR. Even some large corporations have discovered Virtual Reality for themselves. However, so far most companies have been rather reluctant to invest in VR.
Why is this the case?
Many justify their reluctance with the following arguments:
VR is allegedly too expensive.
Integrating VR supposedly takes too much time.
Many believe that VR is a temporary trend that should not be taken seriously.
Do you agree with this?
Hold on, not so fast…
Think about it this way: Virtual Reality is an extremely versatile technology that can be applied in a whole range of ways, especially in companies. With the mobfish VR STUDIO, we can refute all of three of these arguments.
See for yourself:
Low-cost VR applications for companies
For all companies with a tight innovation budget: Virtual Reality does not require large investments. Thanks to technological developments and offerings like our mobfish VR STUDIO, it is even possible for small companies to enter the world of Virtual Reality. Virtual Reality for companies has never been cheaper than today!
VR application created in the twinkling of an eye
The fact of the matter is: when a company orders a completely new VR application, it has to dig deep into its pockets. On the other hand, the mobfish VR STUDIO allows every customer to create their own VR application in no time at all. The special thing about it is that no prior knowledge is required.
Virtual Reality for companies has come to stay!
The advantages that VR applications provide for companies are huge. Regardless of whether in marketing, customer service or product development: VR will find its way into many areas and change the way of working as well as user behavior in the long term. Increased efficiency, enhanced customer loyalty and other improvements make this technology a must for all companies.
Are you wondering exactly how this all works?
No problem! Here you can find out in detail how Virtual Reality can be used in your company.
What is needed to implement Virtual Reality in a company?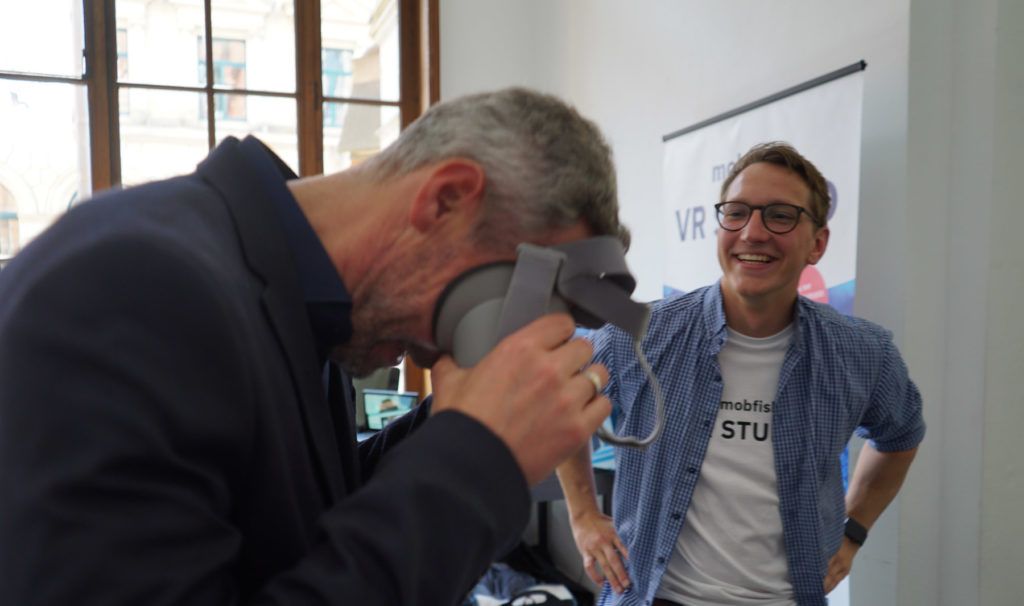 Admittedly, Virtual Reality is quite a complex technology. That's why we at mobfish have thought about how VR can be simplified so that as many companies as possible can work with it in a cheap and uncomplicated way.
The result of many brainstorming sessions and years of development is our mobfish VR STUDIO. With our solution, your company is only a few steps away from its own VR application.
These are the minimum requirements to create a Virtual Reality application for your company:
A creative person from your team who has an eye for taking good photos and videos. (If you have a bigger budget you can of course employ a professional production team.)
A suitable 360-degree camera. Beginner devices are available for less than 300 euros. You can find out how to shoot a 360-degree video here.
Good ideas! After all, a VR application is only as good as the benefits it actually provides for the participants.
Sounds easy, doesn't it?
Which industries use VR or can still profit from it?
VR is a technology of the future which, according to many experts, will find its way into many areas, especially in companies. Some larger companies in many industries are already using VR applications.
A study in which managers from companies in 8 countries were surveyed showed that the expectations of 82 percent of the companies were met or even exceeded. The study conducted by Think Tank Capgemini covers companies from all possible industries.
Many managers also stated that VR brings added value – be it in increasing efficiency, customer loyalty or in other areas.
The fields of application of VR in companies vary depending on the industry. Here you can find some examples of how VR makes a difference in different industries:
Virtual Reality in tourism
Tourism is a prime example of how VR applications offer excellent opportunities. Thanks to VR, it is possible for potential customers to visit hotels, tourist attractions or entire landscapes in advance in a virtual tour. Potential customers can sometimes be persuaded to book the corresponding offer through a well-done VR experience.
A special case for VR applications in tourism are additional offers at places of interest which tourists can use to visit places that would otherwise be closed to the public. For example, this could work in a place of interest worthy of protection such as the pyramids of Gaza.
Virtual Reality in marketing
Virtual Reality is the perfect way to make the customer journey a unique experience. If the benefits of VR are used effectively, you can achieve extremely profitable results. A VR experience enables you to retain the unrestricted attention of the user. Trials have shown that immersive experiences such as entering a VR world create lasting memories.
For this reason, there is hardly a situation better suited to conveying the relevant messages.
However, you must bear in mind that VR must always be well embedded in the overall concept of the customer journey. After all, VR can only deliver its full potential if appropriate conditions are created, such as the appropriate local setting to which the customer must first be led.
Read this article about Virtual Reality marketing to find out what you have to pay special attention to in this respect.
Virtual Reality in teaching
Education and training is also an area in which Virtual Reality offers great added value. This is because immersive experiences are exactly that which leave the most lasting impression in our brain.
Similar to how we learn to speak a language better by communicating in a real environment rather than just reading books, we can learn everything else better when it takes place in a realistic environment.
VR applications in teaching could occur at schools and universities, but also in the form of education and training programs in companies or for specific industries. Just think of an airline crew that has to be trained for a new type of aircraft. By using Virtual Reality, the team can do a virtual tour of the aircraft before it's even delivered.More about VR and training.
Virtual Reality in museums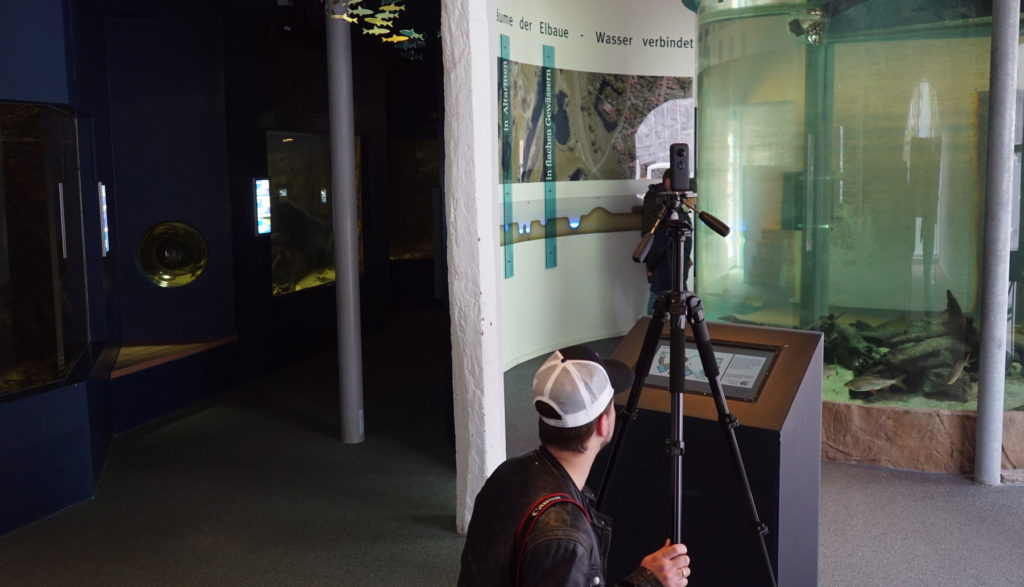 VR also provides museums with numerous opportunities to offer visitors attractive VR content as an additional offer. Our experience in equipping the Museum Lüneburg with VR glasses and our software shows that innovative technology can also make museums interesting for younger generations.
To be precise, we supplement the museum's exhibits with 3D rendered worlds, thus offering users the opportunity to go to the original location of the exhibits.
Virtual Reality in retail
Above all, physical shops have finally gained an effective weapon against the increasingly popular online shopping movement.
In particular, products that require a great deal of explanation or are emotionally appealing receive a useful tool in VR to make them easier to experience in advance.
Want some examples? Here we go:
Furniture could be viewed directly in virtual rooms using VR glasses.
Clothing can be "experienced" directly in the intended context using 360-degree videos. Using such an application, the outdoor clothing manufacturer North Face has recently demonstrated how testimonials have been able to test their products directly in the outdoors.
Car manufacturers can use VR to display new models to their potential customers – even before the car has been launched on the market.
Virtual Reality in sales
In sales, Virtual Reality is mainly used to present products. For example, products can be simulated in special environments. Another concrete example would be the virtual inspection of a building that is up for sale.
Particularly exciting are the customization options that VR applications offer. For example, it would be conceivable to look at a kitchen and "try" all possible variations and colors at the touch of a button.
Virtual Reality in commerce
In addition to immersive experiences that improve the customer journey in retail, there are also great opportunities to use VR in other areas of commerce. For example, a virtual shopping trip from the couch at home is a good option. The user can view products in detail and receive information about them. Once the decision to purchase has been made, an order is placed directly – the rest is handled by the delivery service.
Virtual Reality in handicraft
VR will also be used in good old handicraft. An important area of application, which is already frequently used today, is training to simulate dangerous situations, for example.
However, this is only the most obvious application. Use in other areas is even more effective. Especially in knowledge-intensive fields such as handicraft, VR offers completely new learning experiences. Prepared, preserved and conveyed via VR at the highest level.
Have you ever met someone whose practical instructions you would like to see again and make available to all your employees?
The user can get helpful insights into the use of devices and techniques without having to take risks themselves.
Furthermore, handicraft itself can be simulated in a VR application.
Employee training via VR
It is not only craftsmen training courses that can be designed via a VR application in an effective way. Other employees, such as technicians and other workers who deal with complex equipment or work in hazardous environments, can also be virtually prepared for hazards and develop appropriate strategies for dealing with them.
An even simpler example for the effective use of VR applications in companies are guided tours through a company building. This way, no employee actually has to be there thanks to VR.
See what I mean?
The possibilities of VR in companies are enormous!
Getting started is not difficult at all – thanks to mobfish.
That's why your company will reap the benefits when you rely on the mobfish VR STUDIO!
Here are all the advantages again at a glance:
We won't give you any unnecessary discussions about overblown budgets. mobfish VR STUDIO is the only solution where you can create VR applications at a manageable cost. And all this from 200 euros per month.
We make sure that your VR applications work properly. Always. Across all devices. mobfish VR STUDIO also publishes regular updates. So those who regularly use the software will also benefit from new features and functions.
You don't need to rely on any hardware because we support all important platforms. Created apps work on all major platforms – even the latest ones.
By people for people. Because in the end we want YOU to be successful with our solution. That's why we provide support from real professionals! We are available for our clients as personal consultants and help with the implementation process.
Easy to use: You don't need to be an expert to use mobfish VR STUDIO. You neither need a VR video producer nor a programmer to build finished apps!
We use innovative techniques such as cloud transcoding to ensure that your media is available anytime, anywhere.
Does your company have special requirements for VR?
Are you looking for the perfect introduction to VR for your company and have a special application in mind? No problem! Our mobfish team is specialized in implementing all possible concepts related to VR – get in touch!
What are you waiting for?
Try the mobfish VR STUDIO now! Test our software for 2 weeks for free in our trial. If you or your company need more time, we can arrange for it to be extended.