mobfish VR STREAMER
Stream your VR glasses wirelessly to a big screen
Download the mobfish VR STREAMER for free now. This way, you'll be able to stream your VR glasses wirelessly to a monitor. Use the mobfish VR STREAMER at trade fairs, customer presentations or workshops. We want to make the Virtual Reality experience even better and easier for you.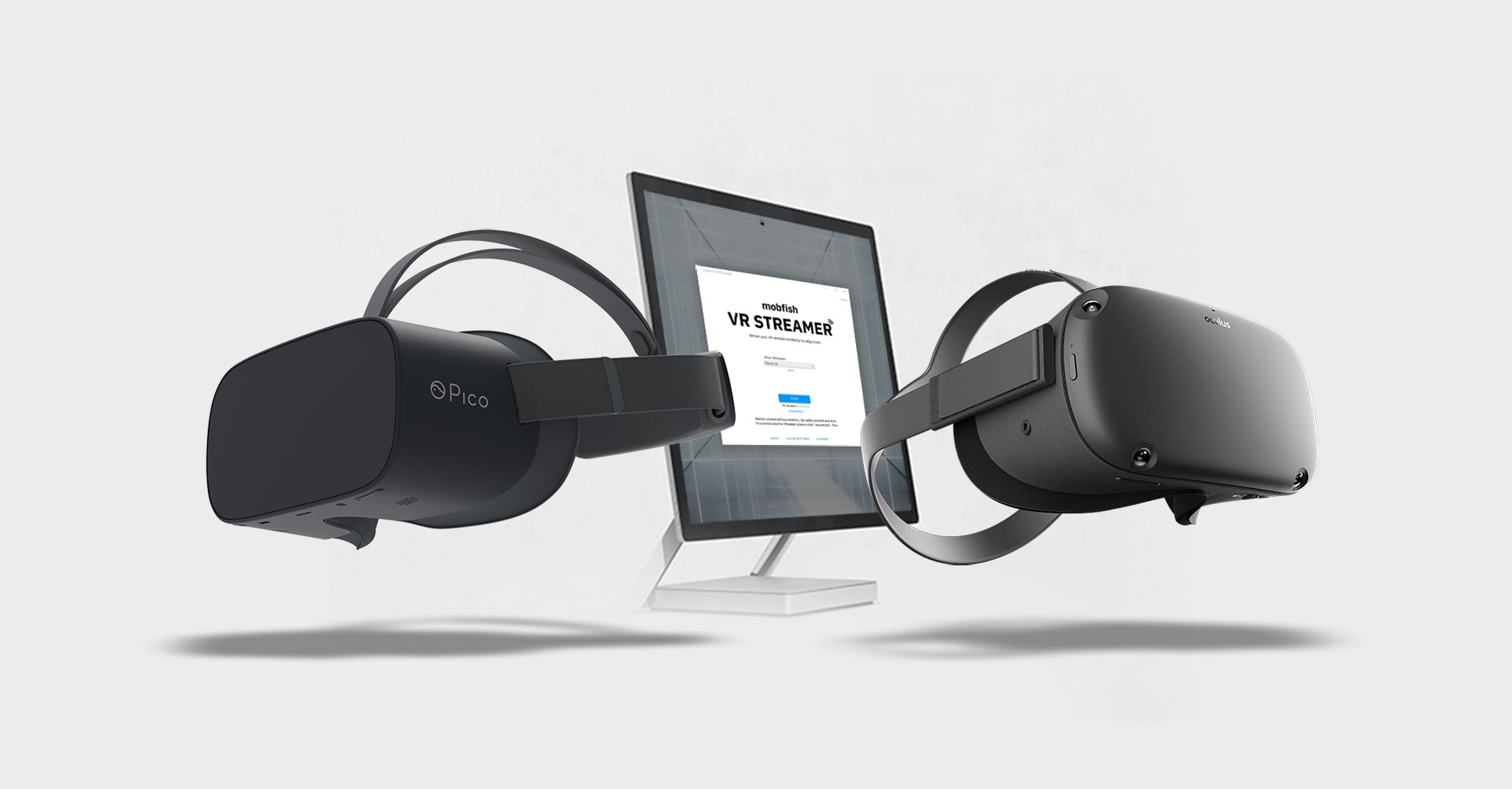 We support the best wireless VR glasses available on the market. This includes:
Oculus Quest
Oculus Go
Pico G2 4K
HTC VIVE Focus
and more…

Regular updates ensure that new devices are continuously added.
What you need
Windows 10.
WLAN network (internet not required).
Compatible mobile VR glasses.
USB cable for the initial connection.
This is how the stream from VR to the monitor works:
Download the mobfish VR STREAMER.
Select your VR glasses and click on "Start".
Connect your VR glasses with a USB cable to your computer.
Remove the USB cable as soon as the message appears.
Done!
FAQs
What does the mobfish VR STREAMER do?
The mobfish VR STREAMER casts the image from the VR glasses to a Windows computer via WLAN. This way, you can stream it to any type of monitor.
Who is mobfish?
We are digital explorers in the realm of Virtual Reality. We make it possible for you to use VR in a profitable way. Without requiring any expert know-how. Without programming. Without unnecessary expenses. With the usual superior standards of quality!
Why is the mobfish VR STREAMER free of charge?
We consider the VR STREAMER to be an extension of our main product "mobfish VR STUDIO". We want to make it as easy as possible for all customers and VR users to use VR. For this reason, we have developed a user-friendly streaming solution, which we offer to you free of charge. If you enjoy using the STREAMER, please recommend us to others!
What is mobfish VR STUDIO?
mobfish VR STUDIO is a cloud-based VR authoring tool that enables you to create Virtual Reality experiences without any programming knowledge.
My image transmission is juddering!
The image display depends on the WLAN and your computer's performance – especially with 4K image transmission. Please ensure you have sufficient computing power and good WLAN.
Is there also a mobfish VR STREAMER for Mac?
Not at the moment.
Which VR glasses are supported?
At the moment, devices with the Android operating system are supported. Oculus Mobile, Pico and HTC (mobile) all use Android. The VR STREAMER is designed for standalone VR glasses (without PC).
My device is not mentioned in the list.
Under "Advanced", you can configure the display individually. Use this function if you are using a device that you cannot find in the dropdown list.