Using Virtual Reality at Trade Fairs
You can easily create a virtual world at your exhibition booth by using VR glasses – no matter whether it's a staged product world, your company headquarters or any other virtually themed world. Using VR at trade fairs offers an abundance of unimaginable benefits.
Trade fair VR applications are one of our best-selling products. And this is not without reason.
Our VR software mobfish VR STUDIO is optimized for use at trade fairs. Below I will list the essential features that we offer you. But first of all, let's look at the most important topics you have to deal with when using VR at trade fairs:
Costs
Conception
Production
1. Costs: Reduce costs by using VR software!
mobfish VR STUDIO reduces the costs of a VR app by using its own platform. After all, you can use this online platform to manage, edit and publish your VR applications yourself. The user management and the cloud enable you to work effectively in teams.
The functionality of hotspots and 360° media allows you to automate the entire creation process of the VR app.
A VR experience that is freely programmed will set you back around €50,000.
On the other hand, there is a comparable solution created with mobfish VR STUDIO that can be implemented from €199/month. The picture worlds are not yet included here, but they could be created independently e.g. by using 360° cameras in-house or by hiring someone else to do it.
A price difference like no other.
For this reason, we speak of a much better price/immersion ratio. Furthermore, the innovative aspect is that our platform gets better and better every day and we will continue increasing this cost advantage through better automation and constant updates.
2. Concept: Find the right VR concept
What concrete added value does VR offer you at a trade fair? These can be split into four categories: place, time, learning worlds and image worlds.
Change time and place using Virtual Reality
Worldwide (or perhaps even universe-wide) teleportation! Transport your visitors to other places such as your company headquarters or the middle of a product presentation. There are no limits to your imagination. You can even travel to fictitious places. All this and more from your exhibition booth.
Time travel? Of course! Here, however, the challenge is portraying the past.
You have possibilities to reconstruct scenes using 360° video, to use 3D animation or to create a collage in 360° space with historical photos and videos.
Create a learning world displaying your advantages
Topics are often complex and difficult to communicate – especially at a turbulent trade fair booth. You need very good sales personnel to be well prepared.
With VR, you can counteract this communication challenge very smartly by creating a digital & interactive 360° learning world. The customer dives directly in and gets everything presented up close and in 3D. Quiz questions help them to engage. In short, interactivity turns them from a mere spectator to an active participant.
Emotions drive actions: Arouse desire with image worlds
Numerous products are marketed through images e.g. fashion labels, drink vendors or car brands. Even suppliers of alarm systems are strongly dependent on emotions.
VR creates excellent possibilities to arouse real emotions in the visitor. The keyword here is immersion – the user literally dives into VR worlds.
Can you imagine yourself in such image worlds? Think conceptually using your emotions and you will come up with fascinating ideas, such as: what does it mean to go on new adventures with a well-equipped outdoor manufacturer? Answer this question with a 360° experience!
3. Production: How can I create a Virtual Reality app?
A VR use case that is often requested is the presentation of your company in VR. We will show you a possible practical procedure using the following example. We have implemented such a project with a customer, from the idea to the trade fair, in just 4 weeks. Your own VR trade fair app doesn't have to be that costly.
Here are the 5 most important steps:
1. The storyboard
First of all, think about the highlights and core messages that should be presented. Then write the whole thing down in a storyboard. In our example with the company AL Elektronik, the special logistics services will be explained.
2. Create 360° images
For this you just need a 360° camera and a tripod – then you're good to go! It is important that the camera doesn't move very much (or better, not at all) when taking the images.
Many people feel sick when they see such images (keyword: motion sickness). Try to create the scene. Design what happens around the camera and think about how you can control where the participant will look.
For example, you could use a moderator that walks around the camera and explains topics. Later on you could connect a 360° video and photos with scene link hotspots.
A look behind the scenes Behind the scenes? 360° training video We shot out second VR video this week! At this point we would like to say a big thank you to the mobfish team ?. We are very excited about the result! We train our employees several times a year! With visual trainings, 360° videos and VR glasses, we have chosen a method that is more exciting and that has a sense of humor – it will certainly remain in your memory longer! Our team is very enthusiastic about the videos and for this reason there will be some more training films to follow! Video "Behind the screen" of mobfish Posted by EDEKA Görge Frischemärkte on Thursday 18th October 2018
3. Create hotspots with 3D media and animations
Emphasize different highlights using hotspots. For example, we created small video clips of process sequences that could be played with a hotspot. We also created a video animation that shows all the brand logos of suppliers one after the other. All this and many more hotspots enable the participants to discover lots of interesting topics.
4. Add a professional speaker voice
The tone of VR is all too often underestimated. A good speaker can easily add a great degree of professionalism to your experience.
In particular, the speaker's voice is very good at guiding the participants through the experience. The participant always knows where to direct their attention and never feels disoriented during their VR experience.
5. Compositing
Once all the media have been produced, you need to upload everything to mobfish VR STUDIO. With just a few clicks, you can arrange everything to create your desired VR experience.
Use VR menus, scene links and control elements to easily navigate your 360° scenes. Expand each scene with additional hotspots. Even a quiz can be easily inserted via a hotspot.
These Features Will Help You at Trade Fairs
Your VR idea as a complete app
VR experiences created by mobfish VR STUDIO can be exported as complete apps in just a few steps. We support all common formats such as .apk, .ipa, .exe, oder .dwg.
So we are not speaking about a viewer which you use to display 360° media or a 3D model. You create a functional and immersive experience whose user experience can be controlled precisely. Use your own app to implement VR at trade fairs in a stress-free and professional manner.
Offline Ready – No Internet Connection Necessary!
At trade fairs, no one should be relying on Wi-Fi if they want to show VR. Experience shows that networks are not usually very reliable.
We of course offer you the benefits of the cloud, but at the same time you can also use our ingenious "offline download function".
This means that you can download the complete experience with just one click on "Download all media". That's how easy it is to get it ready for use at a trade fair.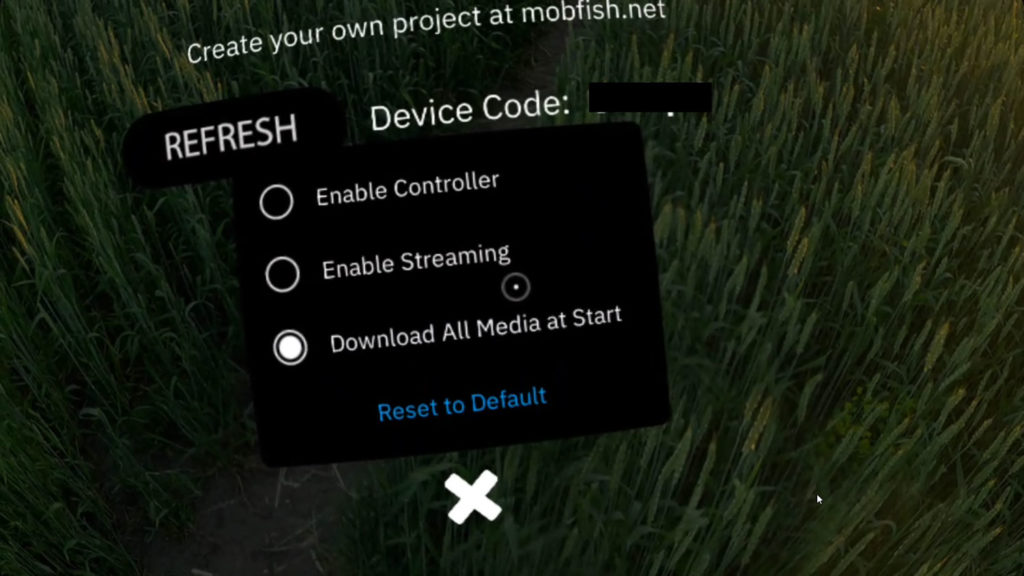 Your Virtual Reality app works reliably even without an internet connection. To do this, you simply have to select "Download all media" in the settings.
High Quality 4K
We know that our customers do not want to compromise on quality. For this reason, we provide all media in the best possible quality.
Our software automatically recognizes which VR device you are using and delivers the optimal format accordingly. Everything happens in the background – all you have to do is upload your media in the best possible quality.
For the pros and nerds among you who are familiar with formats, bitrates and export settings, you can also access the raw media data.
Cloud and Platform
The trade fair is over, and a new trade fair is just around the corner. It goes without saying that you will use VR again. But now it will be "V2", because you have new ideas, want to show something new or maybe even want to use the next generation of VR glasses.
This is where the cloud platform really comes into its element. Via the cloud, you automatically get access to all updates and you are well positioned for long-term usability.
Thanks to the cloud platform in particular, the "mobfish VR STUDIO" offers a number of advantages:
Via the cloud platform you have all your VR projects in one place and can manage them easily via your browser at any time.
New content can be added by you independently. For example, simply create a VR menu item and present a new product with a 360° video.
Do you have new VR glasses? Do you want to use the kiosk mode soon? No matter which model, it doesn't require any extra new programming effort. We constantly support new VR glasses and always provide you with the latest technical functions that are in demand on the market.
Kiosk Mode – The Silver Bullet at Trade Fairs!
Kiosk mode means starting your own app on VR glasses (the glasses boot with the app). With this mode, customers can no longer "break out" of the app. Your app is simply installed on the glasses in advance.
Thanks to our gaze control function, you have a completely idiot-proof use of your VR glasses. This way, you make sure that the customer doesn't end up in other apps or menus that they shouldn't see.
3 glasses currently support kiosk mode:
We worked very closely with Pico's developers to implement kiosk mode into our automated app creation process. Pico is currently the only vendor that offers an easy way to implement kiosk mode.
You can easily generate a suitable VR app via the mobfish VR STUDIO.
You'll find instructions on how to use these glasses in kiosk mode on the Oculus here. For the HTC kiosk mode, you have to register for the "VIVE Enterprise Advantage program" and follow the documentation there.
Conclusion
We recommend using an app with mobfish VR STUDIO, even when presenting a single 360° video on VR glasses. However, if you want to work with VR at trade fairs in the long run, you should use cloud VR software like mobfish VR STUDIO.
With gaze control and kiosk mode, you can make it easy to use, even for inexperienced VR users.
It is our daily task to make your software experience with VR even better. We would be happy to give you personal advice on your trade fair presence with VR.