Pico VR headsets with mobfish VR STUDIO – the perfect combination for your business
Founded in 2015, Pico is a company with 300 employees and offices in the USA, Europe, China and Japan.
By their own account, Pico was the first to release a two-piece standalone VR headset (i.e. with a controller) And also the first to bring out a standalone VR headset with tracking for both head and hands.
Why are Pico and the mobfish VR STUDIO the perfect combination?
Pico and mobfish have entered into a partnership – we have a direct connection to each other and complement each other perfectly. As a hardware manufacturer, Pico is aware that the demands placed on Virtual Reality for business are different from those of the consumer.
It states it adopts a "user first" philosophy and wants to eliminate current pain points experienced by customers using current VR products. In fact, we too have sought to adopt the same philosophy with our mobfish VR STUDIO.
Our goal is to work with you and all our customers to make VR content production and delivery as easy as possible. We want to make the technology usable!
These Pico VR Headsets Enhance Every Event
Pico VR meets the current standards for technical data. It even stands out from the competition in terms of resolution with its 4K variant, which was released in May 2019 in America and Europe.
The 3 DoF headset is sufficient for the VR experiences created in the mobfish VR STUDIO, because here we rely on 360° content without room scaling. We believe that 90% of use cases can be covered. This is particularly easy for the user and is also much more cost-efficient than any complex 3D creation.
| | | | |
| --- | --- | --- | --- |
| | G2 4k | G2 pro | G2 |
| Display | 4k | 3k | 3k |
| Screen resolution | 3840 x 2160 | 2880 x 1600 | 2880 x 1600 |
| CPU | Qualcomm Snapdragon 835 | Qualcomm Snapdragon 835 | Qualcomm Snapdragon 835 |
| Weight | 278g | 268g | 268g |
| Refresh rate | 75Hz | 90Hz | 90Hz |
| Storage | 32G | 64G | 32G |
| Content | Pico Store, Viveport M | Pico Store, Viveport M | Pico Store, Viveport M |
| Tracking | 3DoF | 3DoF | 3DoF |
| External camera | None | 1 RGB Camera | None |
For comparison: Oculus Go, LC display with 2.560 x 1.440px , 75 Hz. Oculus Quest, OLED with 2880 x 1600 px, 72Hz.
In addition to the headset listed above, Pico also has a 6 DoF headset called Neo.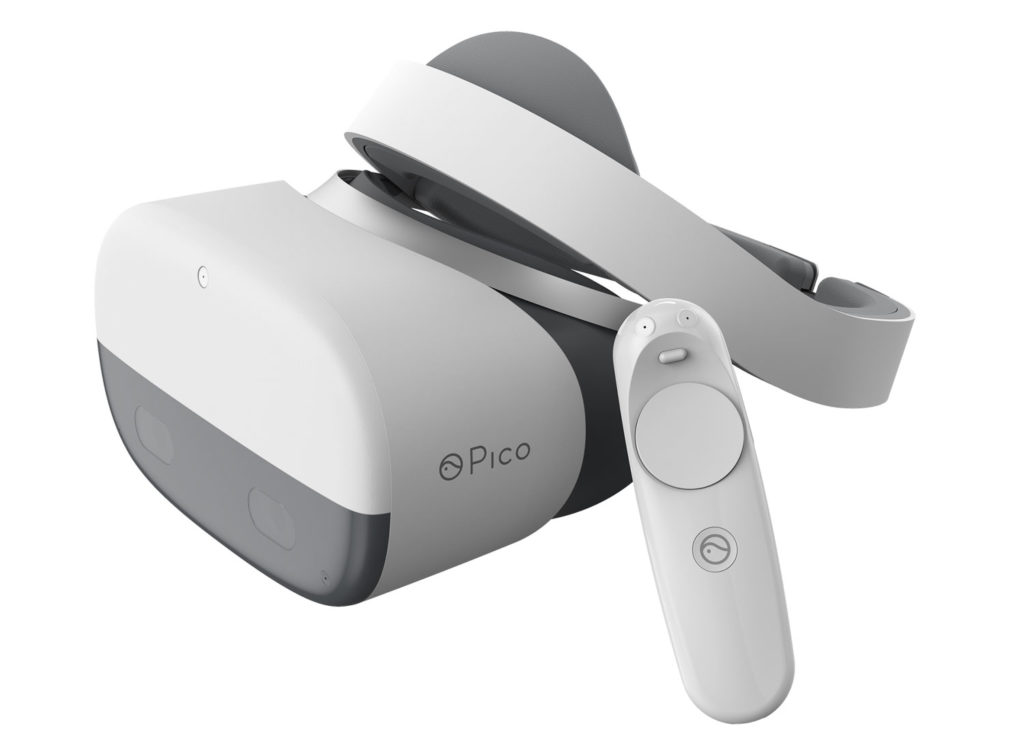 This headset offers a resolution of 1440 x 1600 pixels for each eye and thus offer a top of the range visual experience.
Pico will impress in the B2B arena!
Oculus has made its mission to conquer the VR consumer market. That's why some functions that are indispensable for "business applications" are missing.
Examples of this would be: kiosk mode, hygiene and individual design.
Pico has recognized this and has clearly placed its focus on business users.
Kiosk Mode Enables Easy Handling
With Pico VR headsets, it is finally possible to exclusively launch your own content on the headset.
We have already integrated this option into the mobfish VR STUDIO.
This provides the end user with a seamless experience and makes handling as easy as possible for the trade fair staff.
Put on your headset and get started!
The kiosk mode prevents the user from leaving the desired app. This way, you prevent the user from accidentally leaving the app, calling up menus and accessing anything else.
They only get to see the content they're supposed to see!
Let's look at a concrete case study:
You want to send your application to a customer and want them to have the best possible immersive experience.
Problem: Your customer doesn't have their own headset and doesn't know how it works.
Solution: You prepare a Pico headset with your app in kiosk mode. You even reap the benefits twice over, because the mobfish VR STUDIO has had its offline function right from the start. This way, you can download all content before sending the headset to your customer.
All your customer will have to do is switch on their headset and your app will launch.
I Need the Kiosk Mode!
You need a special installation file for this. But don't worry – you can get this directly from the mobfish VR STUDIO.
Having problems with this? We are happy to support you, use our chat or send us an email.
Hygiene features can attract particular attention at trade fairs or customer visits!
Pico has identified the big issue of hygiene and handled it very well.
Instead of fabric covers, Pico relies on wipeable and exchangeable inlays, which are particularly suitable for use at trade fairs.
The headset can be wiped with a simple hygienic cloth before it's used.
Individual Branding
On its website, Pico says that it's possible to completely have your own branding starting from 300 headsets.
This should include the loading screen, the hardware as such, the firmware and the packaging.
Such a possibility is very practical for larger projects and gives your own VR application its own unique branding and makes it easy to identify.
Build your own apps for Pico with the mobfish VR STUDIO!
Are you interested in using Pico for yourself and your business?
Very good!
In the mobfish VR STUDIO, you can either download our Pico VR test app or build you own app for Pico. You can do all this with just a few clicks.
Our software automatically builds your own app for you, which you can then fill with your content.
Your Own VR App in the Pico Store!
It is also possible to list your app directly in the Pico store.
All you have to do isget in touch with Pico. They test your app and check the content. After a short time, your app will be placed in the store.
HTC's Mobile Alternative – Viveport M Store
HTC has also identified the market for mobile wireless headsets and offers its own platform for this: Viveport M.
Since this store is also open to other hardware, unlike Oculus Mobile, the Pico headset also has access to the Viveport M store. This enables you to download suitable apps from the Viveport store to Pico.
We are currently working on making our mobfish VR STUDIO app compatible with Viveport M as well.
You want to publish on Viveport M already? Then get in touch with us.
The Future of Pico Headsets
Pico continues to work on its product range, with the Pico Neo 2 scheduled for release in the second half of the year.
This headset should work wirelessly with PC applications. If there is no PC nearby, it also works as a standalone 6 DoF headset. This headset is based on the specifications.
At mobfish, we are convinced that Pico can capture the business market with its current focus. You already have many features where competitors like Oculus fail.
We look forward to seeing what the future has in store!